Pat Gillick signs Roy Hobbs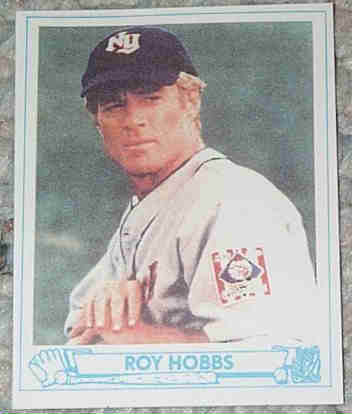 In a surprise move, Pat Gillick today signed
Roy Hobbs
, the unknown sand-lot star who hasn't been seen since striking out "The Whammer" fifteen years ago.
Hobbs is thought to be a five-tool player, with a good batting eye and a strong throwing arm. Although a modest individual, the thirty-four year old rookie clearly has the confidence to play in the big leagues. His bat, rumored to have been carved of a tree felled by lightning, supposedly contains mystic powers to help him slam the ball.
While rumors circulate that the real motive of
Bill Giles
, the shadowy owner of the team who never has lights on in his office if he can help it, is to have the team lose so he can make good some gambling debts, the team has responded well to the announcement of Hobbs' signing.
"As long as he can help the team win, I'm for it," said Chase Utley. "Let's face it, we can always use another bat."
Charlie Manuel said he "Didn't give a *#$@ about the World series, but I want that pennant more than anything I've ever wanted before in my life." While he has no plans for letting Hobbs bat in a game right away, he acknowledged the man can "literally hit the cover off the ball."
The only concern was the fact that Hobbs hits left-handed, which will not improve the teams' weakness against left-handed pitching.